Erbium is found in monazite and sand ores.


Erbium is applied as an amplifier in fiber optics, and in lasers for cutting and welding as well as medical and dental use. Perovskite structured oxides are electronically conductive and are applied in the cathode of solid oxide fuel cells and oxygen generation systems.
Erbium is used in neutron-absorbing control rods. As an alloy additive, Erbium lowers the hardness and improves the workability of numerous metals.

In oxide form, the element is used as a pink colorant in glass and porcelain enamel glazes, and it is often used in photographic filters.
Chemical formula:
Er2O3

CAS No.: 12061-16-4
EINECS EC No.: 235-045-7
HS-Code: 2846901920 (USA 2946908090)
Industrial standard:
GB/T 15678-2010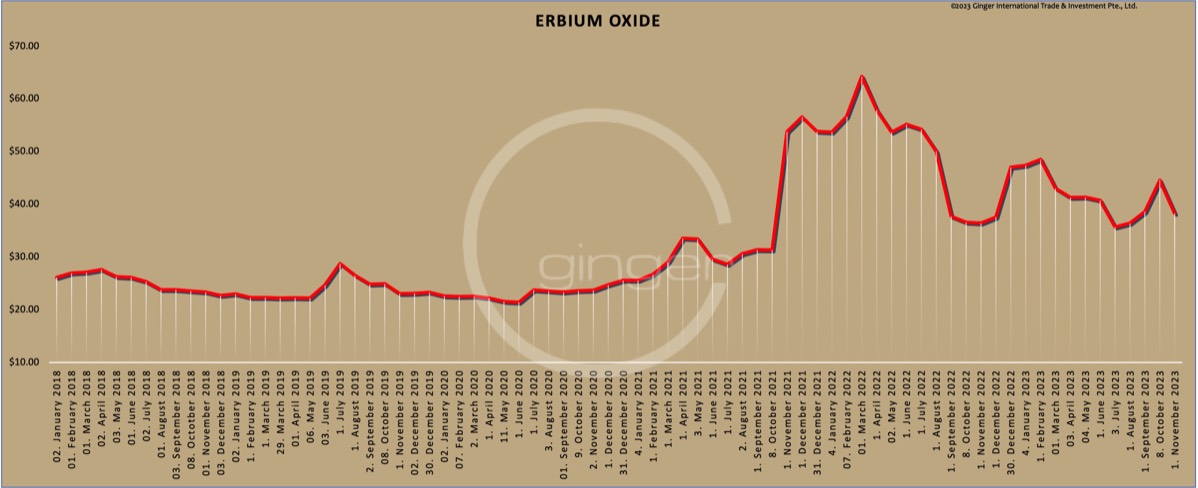 Price level of erbium oxide on [prices-B1] was ca. [prices-B14]/kg net Ex Works China, incl. 13% VAT.

This is not an offer, it is a general price information. Please use at your own risk.

If you need a specific offer, please contact us and we will be delighted to serve you.