Cerium occurs together with other rare earths elements in bastn
ä
site and monazite ores, as well as in
rhabdophane, synchysite and zircon
.

Cerium is the most abundant of rare earth elements, occurrence in the earths crust roughly similar to copper. Cerium oxide output is ca. 35% of rare earths oxide output worldwide.

Cerium is used in "mischmetal" (50% lanthanum, 25% cerium plus traces of neodymium and praseodymium), which is a steel alloy and also used as the "flint" in lighters.


Cerium oxide is also widely used to polish glass surfaces. Other cerium compounds are used to manufacture glass and enamels both as ingredients, as well as colour removal agents. Cerium is a component in solar panels, LEDs, catalytic converters, thermal resistance alloys, carbon arc lighting, self-cleaning ovens, petroleum refining, hardening agents, and dental ceramics.


Alternative names in use are Ceria, Ceric Oxide, Cerium Dioxide.
Chemical formula:
CeO
2
CAS No.: 1306-38-3
EINECS EC No.: 215-150-4
HS-Code: 28461010
Industrial standard:
GB/T 4155-2012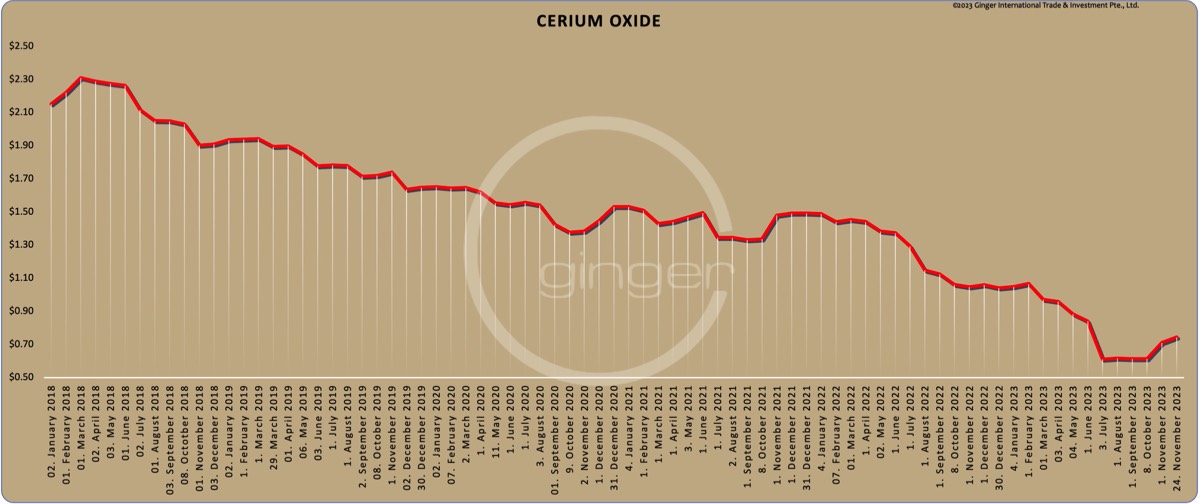 Price level of cerium oxide on [prices-B1] was ca. [prices-B6]/kg net Ex Works China, incl. 13% VAT.

This is not an offer, it is general price information. Please use at your own risk.

If you need a specific offer, please contact us and we will be delighted to serve you.