Crunching the Numbers: China's Steel Exports Q1-Q3 2016
06 11 16 16:55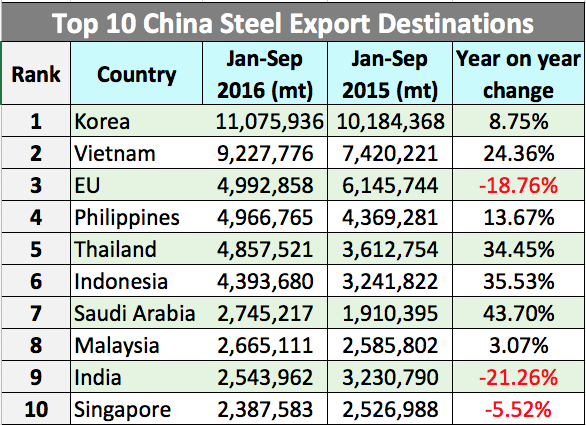 The Top 10 account for almost 60% of all China steel exports during the period. Five of the top 10 export destinations are progressing with trade action against Chinese steel imports.
By and large the regional trade bloc and geographical distribution in terms of Chinese steel exports Q1-Q3 2016 looks as follows: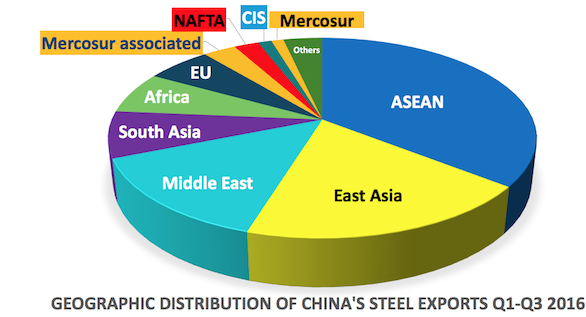 ASEAN: 30 million tons, up 19% year on year.

East Asia: up 5% to 16.3 million tons

Middle East (incl. Egypt, excl. Cyprus): a moderate increase of 2.2% to 12 million tons, including Saudi Arabia 2.7 million tons, up 43%

South Asia: down 7% to 6.4 million tons, incl. India down 21% to 2.5 million tons, Bangladesh down 25% to 1 million tons, Pakistan up 23% to 2.3 million tons and Sri Lanka up 21% to 0.5 million tons.

Africa (excl. Egypt): unchanged at 5.8 million tons

European Union: 5 million tons, a minus of 18%.

NAFTA: 1.9 million tons, down 50%

CIS: 1 million tons, up 4%

Mercosur: at 0.9 million tons, down 43% and Mercosur associated countries 2.5 million tons, down 12%
Export quantity up, export revenue down
In spite of the steel export quantity increase of 2.2%, steel export revenue dropped from US$ 49 billion in Q1-Q3 2015 to US$ 41.4 billion during the same period 2016, a decline of 15.5%.


Production cost increase
In stark contrast to this revenue decline is, that China's steel mills production cost and cost of environmental compliance increased substantially. During the past quarter alone the coking coal price index increased 80%.


Prices stability?
A major Chinese information service reports that steel stocks in China should be low, cost, particularly coking coal, should be high and crude steel output should be moderately dropping with the low season for construction steel advancing. Nonetheless they suggest that prices for commodity steel should be stable or increasing, mainly on the base of increased cost of production.


Domestic supply & demand balanced, but only on continued high exports
Apparent domestic consumption of crude steel in China, which does not account for changes in inventory, stands at 700 million tons annualized for 2016. Annualized numbers for crude steel output seem to be around 800 million tons and net exports could end up at 100 million tons. Picture-perfect, from a planners perspective.

Steel product exports as share of crude steel output will likely exceed 14% in 2016, well past the intervention mark of 10%. When China steel exports previously exceeded this point in 2007 and 2014, the government reduced the VAT refund upon export for steel products.