2016: China Steel export quantity drops 3.5%, steel export revenue down 13%
19 02 17 09:48
China exported 108.4 million tons of steel in 2016, after 112.4 million tons in 2015. The top 10 export destinations represent almost 60% of these exports, up from 55% in 2015: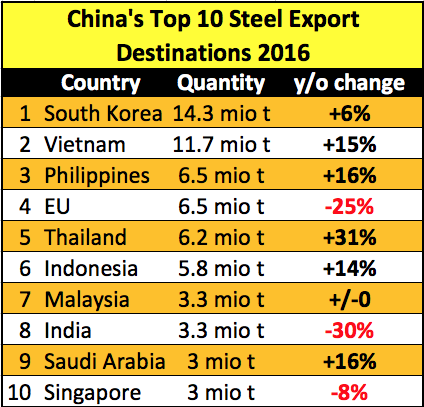 Trade action impact
China's steel exports to NAFTA decreased 44% from 4.5 mio t in 2015 to 2.5 mio t in 2016. Same as the 25% drop of steel exports to the EU and the 30% drop of steel exports to India, this is the result of trade action.


ASEAN up

For ASEAN destinations China's steel exports rose 12.6% from 34.6 mio t in 2015 to 39 mio t in 2016, particularly to Vietnam (+15%), Philippines (+16%) and Thailand (+31%). During 2017 there will be an impact of additional trade action against imports of Chinese steel of ASEAN members.

Middle East down
Overall Chinese steel exports to Middle East dropped from 2015 levels by 8.5% to 14.2 mio t, largely because of significant declines of exports to Turkey (-31%), UAE (-15%) and Iran (-27%). China's steel exports to Saudi Arabia, however, increased in 2016 by 16% year on year.


Africa down
Exports of Chinese steel to Africa (excl. Egypt - incl. in Middle East) in 2016 stood at 6.9 mio t, down 9%, largely because of declines with South Africa (-19%), Nigeria (-35%), Angola (-61%). However, China's main African steel market Algeria was up 6%.


Mercosur down
From 2015 to 2016 China steel exports to Mercosur countries Brazil, Argentine, Paraguay and Uruguay dropped 30% to 1 mio t, while exports Mercosur affiliates Peru, Bolivia and Chile remained unchanged at 2.3 mio t in 2016.


South Korea up, at a discount?
For China's largest steel export market South Korea we need to mention, that the average export revenue per ton of steel is about 10% lower than the overal average export revenue per ton of steel in 2016.


Steel export revenue declines
While the quantity was reduced by 3.5%, China's total steel product export revenue declined 13.4% from US$ 62.8 billion (2015) to US$ 54.4 billion (2016).


The world loves Chinese steel!
Coined by the China Iron & Steel Association in 2014 to explain the stellar rise of Chinese steel exports, this term suggests that steel is being literally torn from the hands of Chinese steel exporters. It would be too good to be true.


Dutch auction: average export revenue per ton of steel down 52% since 2011
If one looks at the average export revenue per ton of steel, the steel export success over the years looks rather like the result of continuous reverse auctions: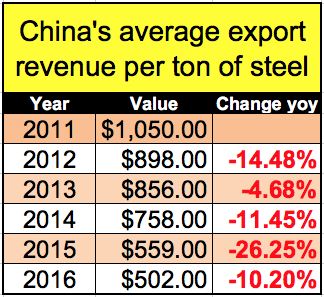 This view of course ignores a possibly year on year changing underlying product mix of vastly different products and prices, but still may serve as a general guideline.


In 2016 steel was a negative foreign exchange earner for China.
China's Iron ore imports in 2016 were valued at US$ 57.7 billion, coking coal imports for the same period were US$ 4.7 billion. Disregarding the imports of alloys like ferroalloys, chrome, nickel, etc, US$ 62.4 billion cost of imports of iron ore and coke exceed the export revenues of steel of US$ 54.4 billion by US$ 8 billion in 2016.

The a.m. balance was still US$ 1 billion positive for 2015.

While on the face of it this kind of approach may seem nonsensical and trivial (China's steel export is 13.2% of crude steel output,
not
100%), if one was to include other Chinese overcapacity industries, it may well be that a part of the decline of China's foreign exchange reserves rests in the self-inflicted price destruction of China's low-added-value export commodities.


Capacity reduction?
China claims success when it comes to elimination of outdated steel capacity in 2016. As Custeel point out in their
report
for Greenpeace, actual operating steel capacity in China has not decreased, to the contrary.

We should keep in mind, that China's Ministry of Industry & Information Technology (MIIT) has a valid plan for the steel industry (see Custeel's
report
) which includes the overall increase of utilisation rate of vetted, somewhat compliant steel makers on its list. Consequently, in terms of crude steel output, even 200 million tons of steel capacity cuts may probably have zero impact on actual output.


Import Replacement

Even though import replacement has been a policy priority for the steel industry for quite a while, imports of steel have held somewhat steady 13-14 mio tons/year during the past 5 years.

What's in store for 2017?
We are probably looking at demand/supply situation that will be similar to 2016. China will again need to export min. 100 mio tons of steel.

However, trade action on the side of importing countries will be a significant challenge. Recent public statements of China's Ministry of Commerce (MOFCOM) show a high level of concern, even alarm, after having blissfully ignored the pleas of the countries being swamped with Chinese steel for many, many years.

In China's ongoing talks with the EU re-opening the EU market for Chinese steel commodities will certainly be a demand from the Chinese side.